UNHRC sessions: What Lanka should have done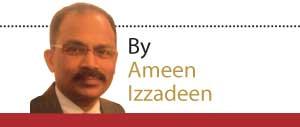 The United Nations Human Rights Council is in session and Sri Lanka is among the countries that have come before its scanner. It is a slur on Sri Lanka's reputation when it is being lumped together with big time human rights violators such as Israel, Syria and North Korea, with member-state after member-state taking the floor to act like prosecutor, the jury and the judge.
They do so as though they have not done any sins.
There is no motto to adore the UNHRC's dove and olive branch logo, which, together with the colors used, signifies, among other things, the peaceful intention of the council, the universality of human rights and the urgency and the attention human rights deserve.  Given the duplicitous nature of world politics and the reality that most nations have politicized human rights as a tool to demonize countries they hate, perhaps the motto should be the New Testament saying, "Let the one among you who has not sinned throw the first stone." To use another Biblical term, the UNHRC is a forum where some nations, while carrying huge beams in their eyes, look at the speck in the eyes of other nations.
http://www.dailymirror.lk/opinion/UNHRC-sessions-What-Lanka-should-have-done/172-206642