Trucks from Jaffna signal long- awaited drop in veggie prices
By Kasun WarakapitiyaView(s): 798
Vegetable prices are going to start dropping in coming weeks because supplies from Jaffna and Kalpitiya are on their way in.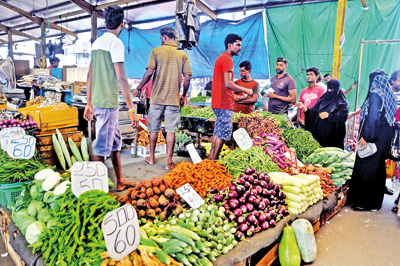 Vegetable prices may be on the way down. Pic by Priyantha Wickramarachchi
The Director of the Hector Kobbekaduwa Agrarian Research Institute, Duminda Priyadarsana, said prices kept increasing during the last few months as heavy rains had ruined harvests. He said high prices would be gone in about one and a half month's time, with results coming as soon as within the next two or three weeks with new harvests reaching market hubs.
"Only a few vegetable varieties such as carrots, leeks, green beans, capsicum and local red onions remain at high prices. Other vegetable prices have already started to decline as produce from Jaffna and Kalpitiya have reached the markets," he said. Prices of brinjals, radish and winged beans were dropping.
Mr. Priyadarsana said the price of local red onions would remain high at about Rs. 1,200 as there was a shortage of onion seedlings. Imported onions were affordable as 29,000 tons of brown onions had been imported from Egypt, Turkey and Bangladesh last month.
Consumers are finding it difficult to cope with the prolonged increase in prices.
Indika Premaratne, 55, who makes a living selling sweep tickets in Kalpitiya, said he was constantly having to look for substitutes, buy alternative vegetables as the varieties he usually bought had become too expensive.
"We do not need excuses from the government: we need the prices of vegetables reduced to a level that is convenient for everyone," he said sternly. "If there is a shortage of manpower they can make use of prisoners."
http://www.sundaytimes.lk/200126/news/trucks-from-jaffna-signal-long-awaited-drop-in-veggie-prices-388959.html